Drones - Things You Should Know
The operation of drones is subject to a broad range of state and commonwealth regulations.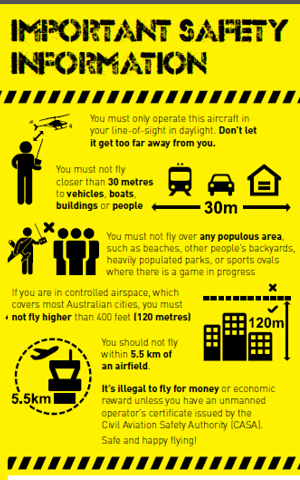 The Civil Aviation Safety Authority regulates the licencing of pilots and operators, the registration of drones, and the general rules for operation. Generally you must not fly higher the 120 m, closer than 30 m to people or property, cross a road, or closer than 5.5 km from an aircraft landing area. Current information can be found at https://www.casa.gov.au/drones.
In Victoria drones may not be operated in any area managed by Parks Victoria (including National Parks, State Parks, Crown Land Reserves, Port Phillip and Western Port, Yarra and Maribyrnong Rivers and a variety of Metropolitan Parks) without being or engaging a fully licensed pilot and CASA-certified operator. A permit is required from Parks Victoria. Current information can be found at https://www.parks.vic.gov.au/get-into-nature/events-and-filming-permits/permit-information/filming-and-photography-application-guidelines.
The Air Activities Team is seeking to obtain an Operator's Certificate during 2020.
Air Activities Enquiries
Would you like more information about drones? Ask the Air Activities team, be sure to included your group and a contact phone number !
Thanks for contacting the Air Activities team! They will get back to you shortly.
Unable to submit request. Please try again.