Hike across Antarctica
It's time to 'Hike Across Antarctica' and support 'The Last Great First' with the first full unsupported ski crossing trip!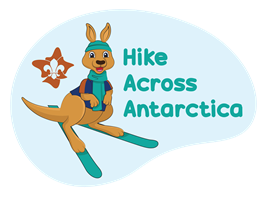 Last Great First's coast to coast trek across Antarctica is 2,600 kilometres. We want to see how many times Joey Scouts in Australia can cross the Antarctic in their own backyard.
We want Joey Scouts to get outside and spend as much time as they can in the great outdoors, whilst getting involved in an incredible expedition.
There are many ways your Unit can reach the 2,600kms! Run, jog, skip and walking can all go towards your tally in 'hiking across Antarctica'.
The Unit to record the most kms will receive a penguin woggle for each participant and Dr. Gareth and Dr. Richard will attend a Unit night on Zoom for a one on one chat!
Remember to log your kilometres each day on the tracking poster and once the challenge has concluded upload your total kms here before December 1!
Download our poster here to share with your Joey Scouts!
General Enquiry
If you've got a question for Scouts Victoria, shoot us a message here.
Thank you for your enquiry. A Scouts Victoria representative will be in touch with you shortly.
Unable to submit request. Please try again.