Scout ID Card
Due to popular demand, from our youth members in particular, Scouts Victoria began issuing membership cards in August 2017.
The cards were initially distributed within the August 2017 edition of Australian Scout Magazine to all youth members, Leaders and Fellowship as well as Adult Helpers (not office bearers).
At the 2019 Leader of Adults Conference, we began distributing our new Scout ID card to all Group Leaders. As Section nights and Group activities start up again for the year, you should start to receive your new card from your Leaders. Members registered after January 10 2019 as well as Fellowship, District, Region and State teams will start to receive their cards by mail shortly.
The details printed on the cards are based on each membership record on the Extranet system as supplied originally by Group Leaders. The member since year is based on when you joined Scouting as a youth, or for many of our senior members, your member since year will be for your Leader service as your youth service may pre-date Extranet a little. If you had a break in service, your most recent return year will be listed.
If you believe there is an issue with the card you received please see the Scout ID FAQs page.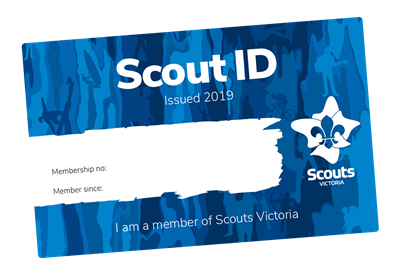 If you have an enquiry regarding your or your child's Scouts Victoria membership number please contact the Membership Support team on 03 8543 9800 or membershipsupport@scoutsvictoria.com.au. This is separate to your Scout ID card
Scout ID Card Enquiries
Got a question about Scout ID cards? Shoot us a message here!
Thanks for contacting us! We will get back to you shortly.
Unable to submit request. Please try again.