Bushfire Appeal - pass the cheque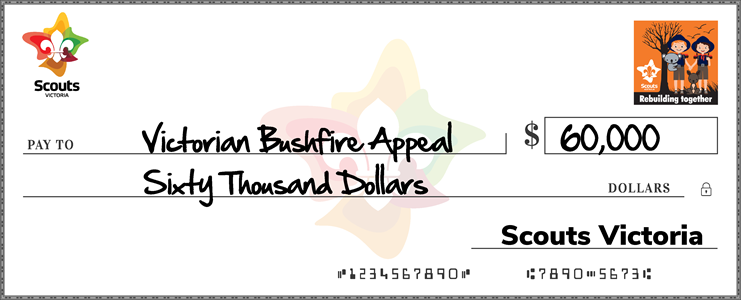 This year every Scout Group in Victoria played a part in raising much needed funds for the Bushfire areas. Now we're hoping every group can help us deliver the cheque!
We're going to make a video of Scouts passing the cheque all around the state before it's handed to Ros Spence MP for the Bushfire Appeal. You can help by sending us a video of you passing the cheque from right to left. Just follow the instructions below and we'll put the final product on our website, social media and Youtube.
Be sure to wear your full uniform - let's see how far around Victoria we can go!
All videos must be submitted by July 31.
Things to keep in mind:
Video must be landscape

Find the best location you can at home with a fantastic background

Download cheque here

Print cheque in colour as big as you can

Hold cheque facing camera so audience can see

Pass from right to left of screen

Fill in name and surname of person that appears in video on file uploader before July 31 - here.
If you have any questions email us marketing@scoutsvictoria.com.au
Ava from 1st Balwyn North shows us how to record a video
General Enquiry
If you've got a question for Scouts Victoria, shoot us a message here.
Thank you for your enquiry. A Scouts Victoria representative will be in touch with you shortly.
Unable to submit request. Please try again.