Our developing program in Victoria
Scouts Australia has a new and exciting youth program.  Each state is now implementing the program so let's do it right, we will get only one go at this.  Youth are leading the way.
Just before we continue ...
If you would like information about joining the Scouting adventure, please click 'Join The Adventure?', yellow button above.
For detail regarding 'Age Sections & Adults' or 'Activities & Events' click one of the green buttons above.
To upload your photos of your challenge area programs, click the link to the left or the below button.
Now, for up-to-date program information please read on.
Navigating
Upload your Challenge Area program photos, see some published, click the yellow button above.
2019 Challenge Area Fact Sheets, scenarios, ideas, clues, scroll down to Challenge Area Resources.
"The Adventure Begins" kit from 2018 - click the link in the right hand panel of this page.
Youth Leading with Adult Support fact sheets, see the relevant FAQ.
For all our frequently asked questions (and answers), click in the menu bar on the left.
2019 - Program focus
updated 3/2/2019
Our focus for 2019 is the reinforcement of "Challenge Areas" in our section programs.  We have lots of Challenge Area resources, see link above.
At your next section councils ask the youth members to include these concepts in their programming or review some existing programs to see where these concepts already exist.
If you missed "The Adventure Begins" last year, you can still join by clicking the link on the right of this page.

Outdoor Challenge
The Outdoors is where Scouting's emphasis on learning by doing through personal challenge is well provided for through a diverse range of adventurous activities. Sections are encouraged to include a wide variety and new outdoors activities in their program as much as possible.  
Community Challenge
This explores a member's awareness of their commitment and responsibility to their community, the value of being of service and the value of being positive and visible members of the community. Members will be engaged and involved with their community through activities and projects, form partnerships, develop an appreciation of the diversity of their community through visits and inclusion. 
Personal Growth Challenge
This is about the individual, their personal Scouting journey and their personal progression. Through your program the member will be offered leadership opportunities, develop new skills and interests, develop a growing awareness of their health and wellbeing and consolidate their beliefs and values. 
Creative Challenge
This encourages the member to express their individualism, character, personality and emotions through an infinite range of activities such as the performing arts, making and creating, inventing, designing and planning. The outcome is personal and unique to the youth member's individual personal progression.
Challenge Area Resources
Welcome to 2019 and Challenge Areas
Definitions of Challenge Areas
Challenge Area Senarios
Challenge Areas Fact Sheet
Mapping Fact Sheet
2020 - What is happening next year?
Later in 2019 we will start preparing for the 2020 focus – recording Participate, Assist and Lead.  We will start to roll out the Tracker App.  This is designed as a tool to help manage your Group and Sections.  It is already in use by our Ground Breakers.  Later in 2020 we will prepare for 'Milestones' which will be introduced in 2021, this is where we start seeing some new badges!!
The Victorian Implementation Time line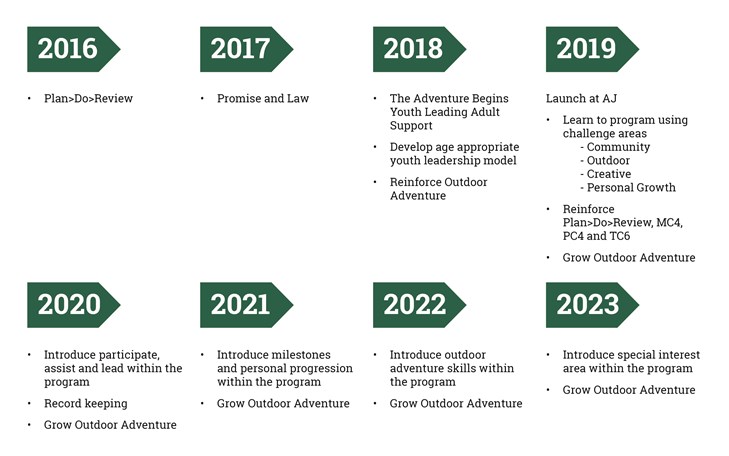 2018
updated 12/11/18
Our focus for 2018 has been 'The Adventure Begins'. The resources can still be downloaded from here.  Other supporting resources are available at Scout Shop online.
Our youth are now planning and leading activities and events, more so than ever before.  These plans usually start at a section council.  Find out more about section councils and enter the fun at Mob Council (MC4), Pack Council (PC4) or Troop Council (TC6).
With youth leading, why not let youth members plan the next going up ceremony.  This will help with smooth transition between sections.  Project Patrols for those with common interests, mixing youth from multiple sections will help with networking, youth will be looking forward to moving to the next section.
The journey so far
The Adventure Begins activities have refreshed our knowledge of these important and core programming concepts 
The Principles, Purpose and Mission of Scouting
The SPICES and their Educational Objectives
The Scout Method (with emphasis on: Youth Leading, Adults Supporting; Community Involvement; and Promise and Law)
Section Councils
Plan > Do > Review >
Where are you on our journey train?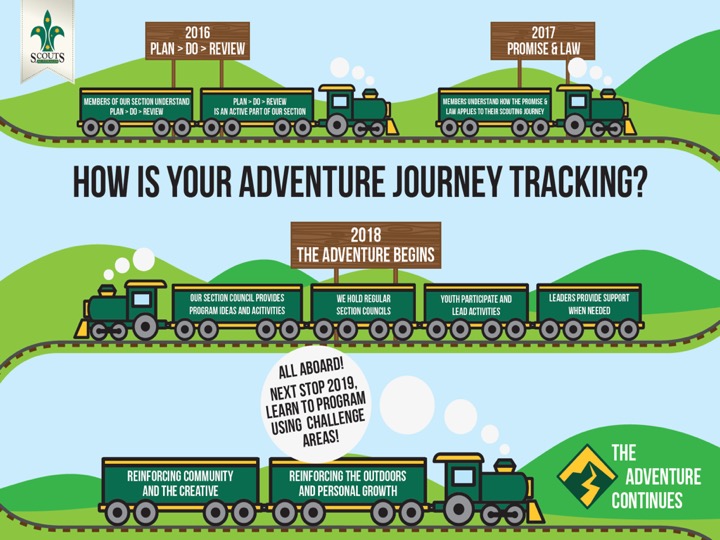 Our Program Enquiry
Do you have a question regarding our program? Shoot us a message here.
Thanks for contacting us! We'll be in touch shortly.
Unable to submit request. Please try again.