Scout ID Card
Due to popular demand, from our youth members in particular, Scouts Victoria has issued membership cards 'Scout ID 2017/18' to all registered uniformed members including all youth members, Leaders, and Fellowship as well as Adult Helpers (not office bearers).
The bulk distribution of the cards was sent by households with the August 2017 edition of Australian Scout Magazine. For example, if you're the only Scout member who lives at your address, you would have just received your card and a copy of Australian Scout.  Or if there are multiple Scout members living at the one address eg family members or friends, you would have received yours together in the one package with one copy of the magazine.
The details printed on the cards (name, membership number and registration year) are based on each membership record on the Extranet system as supplied originally by Group Leaders.
See the Scout ID FAQs page if there is an issue with the card received.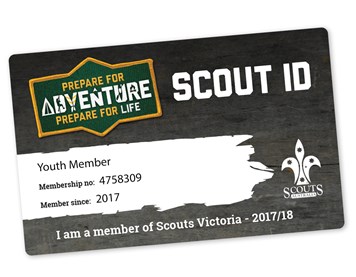 If you have an enquiry regarding your or your child's Scouts Victoria membership number please contact the Membership Support team on 03 8543 9800 or membershipsupport@scoutsvictoria.com.au
Scout ID Card Enquiries
Got a question about Scout ID cards? Shoot us a message here!
Thanks for contacting us! We will get back to you shortly.
Unable to submit request. Please try again.