Our evolving program in Victoria
Following a recent extensive review, our program will now move towards one that is continuous through all sections.  It provides a unique adventure, one that is led by youth who can determine their own pathway.
Just before we continue ...
If you would like information about joining the Scouting adventure, please click 'Join The Adventure?', yellow button above.
For detail regarding 'Age Sections & Adults' or 'Activities & Events' click one of the green buttons above.
Now, for up-to-date program information please read on.
With youth leading, why not let the youth members plan the next going up ceremony.  This will help with smooth transition between sections.  Project Patrols mixing youth from multiple sections will help with networking, youth will be looking forward to moving to the next section.
We are introducing a new and exciting program concept each year for the next few years.
Here is the plan.
2018
updated 12/11/18
Our focus for 2018 has been 'The Adventure Begins'. The resources can still be downloaded from here.  Other supporting resources are available at Scout Shop online.
Our youth are now planning and leading activities and events, more so than ever before.  These plans usually start at a section council.  Find out more about section councils and enter the fun at Mob Council (MC4), Pack Council (PC4) or Troop Council (TC6).
The journey so far
The Adventure Begins activities have refreshed our knowledge of these important and core programming concepts 
The Principles, Purpose and Mission of Scouting
The SPICES and their Educational Objectives
The Scout Method (with emphasis on: Youth Leading, Adults Supporting; Community Involvement; and Promise and Law)
Section Councils
Plan > Do > Review >
Where are you on our journey train?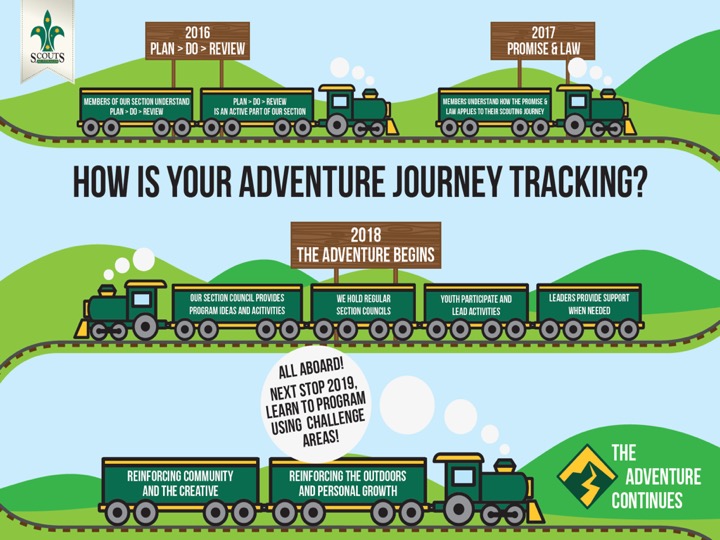 2019
updated 12/11/18
Our focus for 2019 is the reinforcement of the "Challenge Areas" in our section programs. 
Section appropriate resources will be released at the February GL conference.  As a refresher, here are our traditional Challenge Areas.  At your next section councils ask the youth members to include these concepts in their programming or review some existing programs to see where these concepts already exist.

 Some Frequently asked q&A
New Program Enquiry
Do you have a question regarding the new program? Shoot us a message here.
Thanks for contacting us! We'll be in touch shortly.
Unable to submit request. Please try again.