100 years of the Wood Badge
Centenary of the Wood Badge blanket badge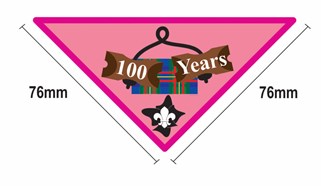 The non-uniform badge, shaped like the Gilwell Scarf, signifies membership of the 1st Gilwell Scout Group.  It has a background coloured to represent humility, with a warm red border representing the warm comradery found in Scouting. Two beads symbolise completion of advanced training superimposed over Maclaren tartan, in memory of William de Bois Maclaren who donated the land known as Gilwell Park.
We only have a limited number of these badges available, to purchase, use this order form.
_____________________________________________________________________

Scouts Victoria is offering an all-section advanced training course to be held at Gilwell, England in August - September 2019. Twenty self-funded positions will be available.
The purpose of this specially scheduled course in the year of the Centenary of the Wood Badge is to:
Encourage Leaders to complete advanced training and gain their Wood Badge
Inform the Scouting community – Leaders, youth and parents – of the status of Leaders who are trained to advanced level
Educate the general public of the content and value of Scouting's Leader training
General Information
Close to London, but with the tranquillity of a woodland location, Gilwell Park is famous throughout the world for its Scouting heritage, beautiful setting and stunning range of activities. This tour includes a visit to Brownsea Island, the site of the very first Scout camp and the spiritual home of Scouting.
An opportunity is available to return via Kandersteg International Scout Centre. This Centre began in 1923.
After the first World Jamboree, Lord Baden-Powell had a dream about a place where Scouts from all over the world could meet: a permanent mini Jamboree.
Eligibility
The usual eligibility requirements to attend an advanced training course apply.
Applicants will require letters of recommendation from Group Leader/Team Leader and relevant State Commissioner.
Applicants will be asked why they wish to attend the course, what they hope to gain, and what they will bring back to their Group/Section.
All applications will be assessed by a selection panel.
Dates
Training course: August 29, 2019 – September 7, 2019
Post tour: September 7 – 14, 2019
Cost
Advanced Training course $3,900
Additional Post Tour $600
Prices are per Leader, based on shared accommodation.
Prices may vary, depending upon 2019 travel prices.
Payment
Each Group will be invoiced for the advanced course training cost. Each applicant will be responsible for paying the balance between the 2019 standard and international training cost. If the Group wishes to assist with fund raising to cover some of the balance of course cost, it is a decision for each individual Group.
Registered Members under the age of 26 may apply for EML funding.
Inclusions
Return Flights
Most Meals
Shared accommodation
Day tour to Brownsea Island
Training Course and activities
Transfers
Enquiries
Enquiries to jan.kerr@scoutsvictoria.com.au
Click here to download a copy of the brochure.
Applications have closed and those successful have been contacted.
Wood Badge at Gilwell UK
Got an question about this incredible opportunity? Shoot us a message here!
Thanks for contacting us! We'll get back to you shortly.
Unable to submit request. Please try again.