Container Deposit Scheme EOI
Express Your Interest for a Container Deposit Scheme Hall Kit!
We invite Scout Groups to indicate their interest in acquiring our Container Deposit Scheme signage and bin kit for their halls. Invoices for the kits will be dispatched in the upcoming weeks.
Upon confirmation of your order, Scout Groups will be responsible for collecting their respective kits. Scouts Victoria will establish convenient collection points across Victoria once all orders have been finalised.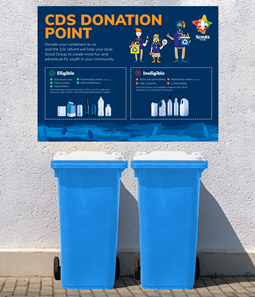 Thank you for doing your Groups EOI. We will send you an invoice soon and let you know where and when you can collect your pack.
Unable to submit request. Please try again.