Monster Raffle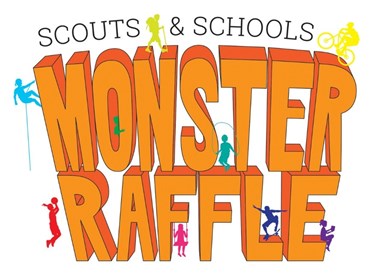 Get ready for the 2019 Scouts & Schools Monster Raffle
Key points
For 15 years this fundraiser has delivered MONSTER results to Scout Groups across Victoria.  Last year we raised more than $700,000 and in total over all the years in excess of $7 million, mostly for Scout Groups!
Schools have participated for the last seven years with $1.5 million dollars raised and since 2015. Community groups are also invited to participate.
Some ideas on what your Group/formation could spend the money on:
Subsidising Membership Fees, Adventurous Activities and camp costs
Major events including Jamborees, Venture, Cuboree & Kangaree. Even if they aren't on this year, you can still start 'banking' the money now
Hall maintenance and upgrades
New equipment
Key details
One major raffle for Scout Groups (Monster Raffle) and school & community groups (Our School Raffle)
An exclusive ticket selling period for Scout Groups
Two refund rounds to choose from; either June or October
100% proceeds go back to Groups, that's $2 for every $2 ticket sold. Schools & Community Groups receive 75%
750,000 tickets available
More than 100 prizes, click here to view prize list.
Key timings
5 February
Ticket order system open on Extranet for Groups
Early March
Distribution of tickets to Groups
May
Scout Month at Ritchies
Early June
Schools and community groups commence selling tickets
Scouts can continue selling if opting for refund in October
By end June
Refund for Round 1 – Groups can opt to return all tickets (sold and unsold) with the correct payment at this time to receive their refund by the end of June
23 August
Final close off of Round 2 for Scouts and all other raffle sales
Return all tickets (sold and unsold) and correct payment
6 September
Raffle draw at Victorian Scout Centre at 11am
16 September
Raffle results published on website and prizes distributed
Early October
All tickets finalized and refunds processed
For Scout Groups , the ticket order system is now OPEN via Extranet and more information is available in our Key Information Document for Scout Groups.
INFO FOR SCHOOLS AND COMMUNITY GROUPS
Schools, kinders and community groups of all types have participated in our raffle for the last seven years, with $1.5 million dollars raised.
In 2019, the raffle is again open to schools and community groups. It is the perfect fundraising opportunity! You receive $1.50 for every $2 ticket sold. The balance is used to pay for the tickets and the system, so you don't have to go through the hassle yourselves; nearly all the hard work is done by Scouts Victoria. All you need to do is focus on distributing and selling your tickets.
To register your interest please email us on monsterraffle@scoutsvictoria.com.au and have a look at www.ourschoolraffle.com.au. Schools and Kindergartens are already listed and waiting for your orders. If you are a community group, please email us and we will create a record for you
Tickets for schools, kinders and community groups will be distributed in late May.
MORE INFO FOR EVERYONE
The Scout Association of Australia Victorian Branch 2019 Scouts & Schools Monster Raffle will be covered by Victorian Legislation and it will be declared by the (Victorian Commission for Gambling and Liquor Regulation). (VCGLR). The gaming permit number is 10015/19.
All additional enquiries to monsterraffle@scoutsvictoria.com.au or 03 8543 9808.
Monster Raffle Enquiries
Got a question about Monster Raffle? Contact the Raffle team here!
Thanks for contacting the Monster Raffle team! They will get back to you shortly.
Unable to submit request. Please try again.