Scouts - Explore the Unknown
Peak Award - Australian Scout Award

The Australian Scout Award is the highest award you can earn in the Scout Section. It is considered the pinnacle of your Scouting at this stage and is a milestone in your Scouting life. For reference, the Peak Award Factsheet and the Unit Council Supporting the Peak Award.
The Australian Scout Award requires the approval of the Unit Council and the endorsement by an Adult Leader.
An electronic copy of the approved Australian Scout Award - Notice of Completion form will be sent to Youth Awards at youthawards@scoutsvictoria.com.au for processing.  
To be awarded the Australian Scout Award, Scouts must: -
Milestone
Complete Milestone 3 (Milestone 1 and Milestone 2 are optional)
Outdoor Adventure Skills
Achieve at least within Outdoor Adventure Skills: -
Core: - Bushcraft Stage 5, Bushwalking Stage 5 and Camping Stage 5
Complete 10 Stage progressions (total) in the Outdoor Adventure Skills across any of the skills. 
Special Interest Areas
Complete 6 Special Interest Areas activities, each totalling at least 8 hours, across at least 3 of the Special Interest Areas
Other Peak Award Activities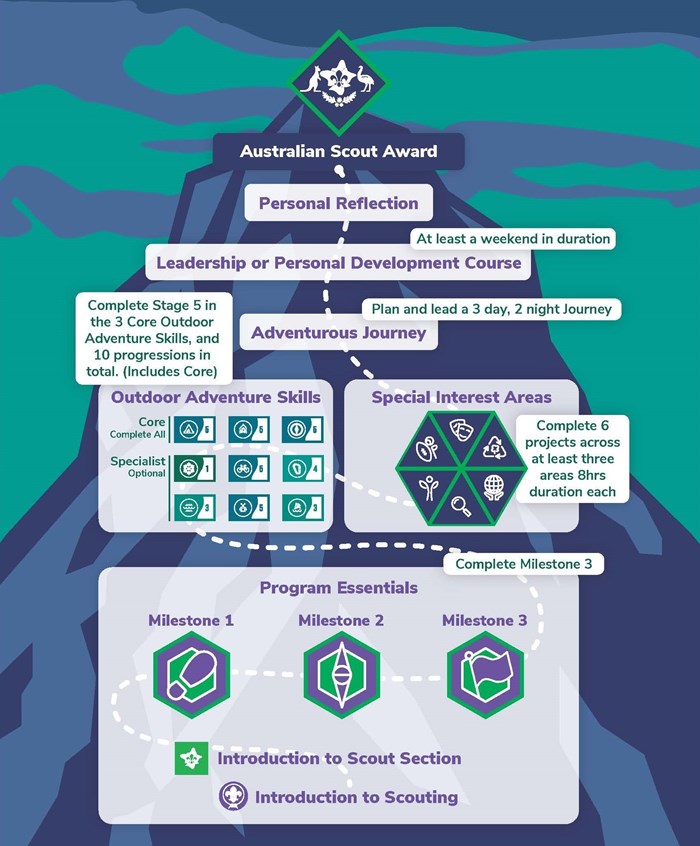 General Enquiry
If you've got a question for Scouts Victoria, shoot us a message here.
Thank you for your enquiry. A Scouts Victoria representative will be in touch with you shortly.
Unable to submit request. Please try again.