Venturer Events - Look Wide
Venturer Events
BARCOM - September School Holidays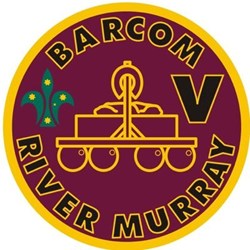 BARCOM is a unique Venturer Activity - rafting down the Murray River - conducted in the September school holidays each year. It consists of four rafts, 3m wide x 4.8m long, on which deck boxes are provided to carry food, water, cooking equipment, tools, packs, tents and personal equipment for the week.
Each raft has a crew of eight, so each expedition can accommodate 32 participants. BARCOM is an activity that challenges and enhances your Scouting skills by active participation in building, launching, provisioning, rowing and navigating a raft down the mighty Murray River. Rafting expeditions provide plenty of exciting challenges, requiring first class teamwork and initiative to overcome situations as they arise. Lasting friendships are formed and the experiences will be relived many times and spoken about for years to come.
BARCOM provides all materials, food, experienced & qualified Leaders, and a great adventure!
www.barcomrafting.wordpress.com
Vic Gathering - December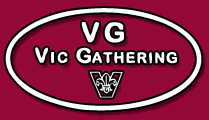 Vic Gathering is an event run specifically for Victorian Venturers and Guides. The objective of the Gathering is to provide a fun weekend to help the Venturers, Guides, Rovers and Leaders unwind at the end of a busy year.  
Vic Gathering is run by the Vic Gathering Committee, with support from Leaders and Rovers from across the State. VG takes place on the first weekend of December each year.
VG is a standing camp with booking in commencing at 6pm Friday and most activities getting under way by 9:30pm. Venturer and Guide Units are generally required to be self-sufficient for the weekend, however a canteen is provided for those who do not wish to prepare their own meals.
Anything Goes - February 
Anything Goes is a giant adventurous activities weekend camp for Venturers and transitioning Scouts, held on the last weekend of February every year at Lardner Park near Warragul. The last AG had over 1100 youth attending, with plenty of supporting staff.
The cost for youth members includes one gold or two silver booked activities, as well as a huge range of onsite activities.
Booked activities including horse riding, rafting, mountain biking, ten pin bowling, scuba diving, high ropes course, four wheel driving, helicopter rides, laser tag and much more.  Anything Goes has a fleet of buses (with the help of volunteer drivers) to take you offsite to your booked activities.
Bee Experience - Venturer Environment Course
February/March/September/October
G.W.S. Anderson Scout Park - Officer
A two day course on bee life cycle, bee habitat, anatomy, hive safety, hive equipment, assembly of hives.
Contact - beeexperience@scoutsvictoria.com.au