Safety
We have to be on alert for any risks in our activities. While our youth members are busy pushing their boundaries, our Leaders are the extra eyes and ears that help keep them safe. This includes everything from menu supervision at camps to checking life jackets at water-based activities.
Duty of care
Scouts Australia Policy & Rules 2017 states:
P2.1 DEFINITION
Scouts Australia has a Duty of Care to all members of the Movement and their parents/guardians to provide a safe environment that protects members to the best of its ability from physical or emotional harm.
Scouts Australia shall ensure when recruiting and managing leaders and other persons in control of, or in contact with, young people that this duty is exercised.
All leaders are accountable to exercise this duty on behalf of Scouts Australia at all times.
 P2.2 AUTHORISED PERSON IN CHARGE
The authorised person in charge of an activity shall exercise the Duty of Care on behalf of Scouts Australia and parents or guardians.
Leaders planning an activity for which they do not have the prescribed qualifications to enable them to exercise the responsibilities of the authorised person in charge, shall obtain an appropriately qualified person to conduct the activity. That person shall conduct the activity to the requirements of Scouts Australia and shall be the authorised person in charge of the activity.
Risk and safety
Scouts Victoria takes its obligation to keep all of our members and leaders safe seriously and has many processes in place around risk and safety. Scouts Victoria has appointed a State Commissioner – Risk & Safety who is charged with ensuring Scouts Victoria delivers best practice in meeting our health and safety obligations. The State Commissioner is supported by the Scouts Victoria Operational Safety Leadership Committee, a diverse committee covering the breadth of Scouting with a focus on the areas of greatest risk. This committee works to support the State Commissioner and to drive safety initiatives in their areas of responsibility, including Adventurous Activities, Campsites, Major Activities and HR.
Safety vision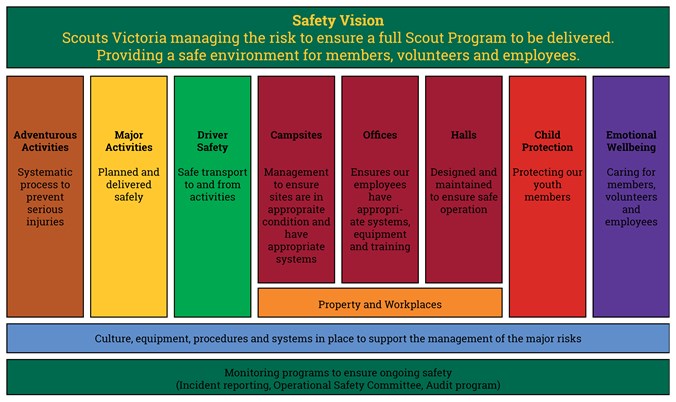 POLICIES AND PROCEDURES
All members of the Scout Association of Australia - Victorian Branch ('Scouts Victoria') are required, as a condition of Membership, to abide by the Principles, Policies, Rules, Regulations and Procedures of Scouts Australia and Scouts Victoria.
Policies (mandatory requirements)
FORMS
All Forms are available here
RESOURCES
CONTACTS
State Commissioner - Risk & Safety
sc.risk@scoutsvictoria.com.au
State Commissioner - Adventurous Activities
sc.adventurousactivities@scoutsvictoria.com.au
State Commissioner - Campsites
sc.campsites@scoutsvictoria.com.au

State Commissioner - Quartermaster
stateqm@scoutsvictoria.com.au
Safety
Need more information about Safety at Scouts Victoria? Contact the Safety team!
Thanks for contacting the Safety team! They will get back to you shortly
Unable to submit request. Please try again.