Air Activities
Scouts from Joeys to Rovers can enjoy the thrill of flight and experience the magic of soaring above the earth for a much lower cost than others! Familiar local landscapes are transformed into surreal patchworks below as the pilot works the controls and you feel the light aircraft defy gravity.
Rovers, Leaders and Venturers aged 16 and over can also take it a step further with 'Learn to Fly' days or activities tailored to the Venturer and Rover Award schemes.
Where and who
The Air Activities Team is based at Moorabbin Airport, and that's where most activity days are held. Scouts have the lowest possible price, thanks to the generous team of pilots and ground crew sharing their time and expertise. Flights from Moorabbin are $60, slightly more for Scout Target Badge Days.
We can also arrange flight days at suitable regional airfields, but there'll be extra costs to ferry the plane.
COUNTRY FLYAWAYS
SAAV conducts flyaways to country and regional Victoria to allow our non-metropolitan Melbourne members the chance to experience flight.
SAAV has conducted flyaway operations all around Victoria since 1980. Some of the locations are pictures in the below map.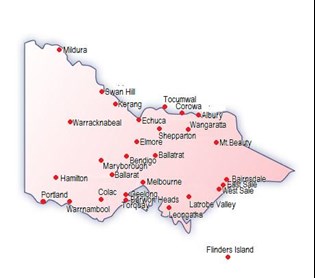 Do you want your Group or area to be next on the list? If so, please email our bookings officer using the details below.
Venturer and queen's scout awards pursuits challenge
SAAV's Venturer & Queen's Scout Awards' Pursuits or Outdoor Challenge aviation program is structured to meet the 10 hour requirement of the Venturer Award or the 20 hour requirement of the Queen's Scout Award.
The program is in three parts:
Basic Aeronautical Knowledge including principles of flight, weather and navigation
Plan a Cross Country Flight
Advanced Introductory Flight
The first event for 2019 has been scheduled futher events may be scheduled depending on interest, register on the waitlist to be advised of future events.
Contacts
State Leader - Air Activities
state.airactivities@scoutsvictoria.com.au
Bookings and Country Activities
bookings.airactivities@scoutsvictoria.com.au
General inquiries
info.airactivities@scoutsvictoria.com.au
Pilot Training and Aviation Career inquiries
learntofly.airactivities@scoutsvictoria.com.au
GLIDING
Unpowered flight is a whole new dimension of excitement. After being released from a tow-plane or a winch, glider pilots find pockets of rising warm air to keep their aircraft aloft, just like eagles. You'll be surprised that gliding isn't as quiet as you'd expect. There's no engine but the noise of the air whizzing past the little cockpit helps the pilot find the best airspeed for flying the glider. Contact your local gliding club or the Air Activities team for more information.
NOTE: A Special Activity Permission Form is needed for gliding and for any other flying activities outside the Air Activities team. All flights must be conducted in aircraft on the Australian Aircraft Register under charter category rules. Private and flights in aircraft registered with Recreational Aviation Australia are not permitted.
Air Activities Enquiries
Would you like more information about Air Activities? Ask the Air Activities team!
Thanks for contacting the Air Activities team! They will get back to you shortly.
Unable to submit request. Please try again.