Air Activities
Scouting from Home
It has been a while since we have been able conduct a face-to-face activity due to COVID. It may be a while before it is safe to squeeze four people in the two square metres of an aircraft cockpit and then we need to get our pilots and ground crews requalified.
There are some activities for Venturers and Rovers considering aviation as a Year 11/12 option or a career.
We are targeting on a Return To Flight in Term 1 2024. Our 2024 calendar and booking sheet will shortly be online, keep an eye on the Be Informed eNewsletter and the Scout Air Activities Victoria Facebook page for updates.
For now we are looking at some non flying options, we are seeking approval to conduct airside walks at Moorabbin Airport, and conduct some small group 'flying' utilising simulators. In the meantime we are developing some online activities covering Cub, Scout and Venturer Activities. Level 2 based on the old Pioneer Level Scout Target Badge is now available, see our Scouting at Home page for details and to register on the Online Waitlist 
When we return to Flight
Scouts from Joeys to Rovers can enjoy the thrill of flight and experience the magic of soaring above the earth for a much lower cost than others! Familiar local landscapes are transformed into surreal patchworks below as the pilot works the controls and you feel the light aircraft defy gravity.
Rovers, Leaders and Venturers aged 16 and over can also take it a step further with 'Learn to Fly' days or activities tailored to the Venturer and Rover Award schemes.
See the links in the left sidebar for more information about our programs.
Where and who
The Air Activities Team is based at Moorabbin Airport, and that's where most activity days are held. Scouts have the lowest possible price, thanks to the generous team of pilots and ground crew sharing their time and expertise. Flights from Moorabbin are $60, slightly more for Cub and Scout Award Scheme Days.
All pilots and ground crew are registered members of the Scout Association (or holders of the Working With Children card) and each pilot is the holder of a current Commercial Pilots License issued by the Civil Aviation Safety Authority (CASA). SAAV operates as a charter operation under stringent CASA guidelines, rules and legislation.
Country Flyaways
SAAV conducts flyaways to country and regional Victoria to allow our non-metropolitan Melbourne members the chance to experience flight.
We can also arrange flight days at suitable regional airfields, but there'll be extra costs to ferry the plane.
SAAV has conducted flyaway operations all around Victoria since 1980. Some of the locations are pictures in the below map.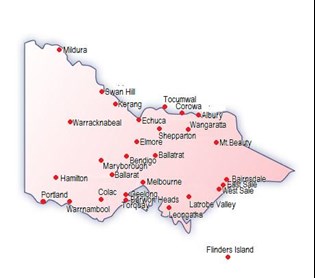 Do you want your Group or area to be next on the list? If so, please email our bookings officer using the details
Contacts
State Leader - Air Activities
state.airactivities@scoutsvictoria.com.au
Bookings and Country Activities
bookings.airactivities@scoutsvictoria.com.au
General inquiries
info.airactivities@scoutsvictoria.com.au
Pilot Training and Aviation Career inquiries
learntofly.airactivities@scoutsvictoria.com.au
Join us on Facebook

About Scout Air Activities Victoria
Air Activities Enquiries
Would you like more information about Air Activities? Ask the Air Activities team, be sure to included your group and a contact phone number !
Thanks for contacting the Air Activities team! They will get back to you shortly.
Unable to submit request. Please try again.