Caringal Scout Camp
Address - 655 Telbit Road, Tyers Junction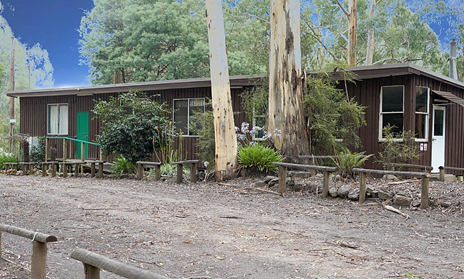 Caringal is a Scout Campsite - which is also open to the public. 
​As Caringal is a Scout site, Scout groups are given a large discount on any hirings provided they are taking part in a genuine Scouting activity.  This does not include a youth member going on a camping holiday with their family.  This would be treated as a public booking.  
​If, however it's a large family camp organised by the Group then yes it would qualify.  The same as a Troop, Cub or Joey camp.  A rough benchmark is 'is it a camp which requires you to arrive and leave in uniform and you're going to have a flag break each day". If the answer to this is "Yes" then you would qualify for the Scout discount. 
​Patrol camps are welcome too with some small sites available
​What is the discount I hear . . . . . . .
There is a flat camping fee of $5 per head per night with no site fees.  

Any cabins, mess hall or bunkhouse are discounted by 30% with again the $5 per head fee.

The Troop hall is available for sleeping for an overnight stay such as a Cub sleep over
Where do you camp? 
Unless you ask otherwise we put Scout camps on the top of the hill past the carpark.  This is open and has a separate unisex toilet block.  If we have Groups camping we can arrange to shut the main shower/toilets to the public for a suitable time each day so the youth can have a shower.  If there are a large number of Groups staying we have to use the main camping ground but again we can shut the main toilets each day.
These include 
Obstacle course

Fishing

Swimming

Tube 'rafting' (depending on river flow)

Walking

Bird spotting​

Abseiling

Chapel
More details can be obtained form the Warden
Accommodation
Bunk house - lounge, four rooms x six + one room x two = 26 beds
Lodge -  kitchen, one room x six + one room x four = ten beds
Rover Hut - ten beds
Bert Spackman Lodge - six beds
Leader Hut - kitchen, two beds
Patrol sites - 100 sites, four powered sites 


Nearby

9km from Erica
Located on the junction of the Eastern, Middle and Western Tyres Rivers.
Caringal Scout Camp Enquiry
Looking for more information about Caringal Scout Camp? Shoot us a message here
Thanks for contacting Caringal Scout Camp! They will get back to you shortly.
Unable to submit request. Please try again.