Events
Kangaree
Every two years Joey Scouts have the opportunity to camp or sleep inside a pavilion and play with hundreds of other new friends.
The next Kangaree will be held from March 7 to 9 2020.
The 'Kangaree' is like a condensed version of the famous Jamboree for Scouts. It's a brief time away from home, at Lardner Park, and a fantastic way to introduce our youngest members to the fun of a camping trip with friends.
They also get to play games and team up for challenges. For more information, click here!
Generate PINAPPLY NOW!  More Info
Applications close February 15 - no exceptions!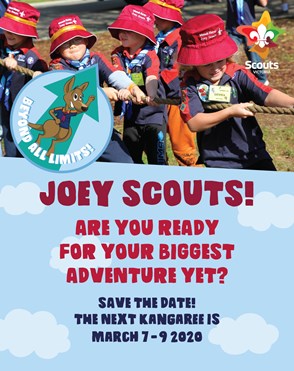 HOP Into the Zoo!
The 2019 Zoo Day will be held on November 16 and we can't wait to see Joeys from all over the State in attendance!
To register, click here.
Zoo Day badges will be available on the day from 10am to 2pm at Pavillion Three. This is also a perfect area to have lunch and catch up with the other Mobs.
Check out the photos below to see what a great time our Joeys had at the 2017 Zoo Day!
Joey Event Enquiries
Shoot us a message here if you have a question about Joey Scout events. For new Joey member enquiries use the 'Find your nearest Joey Mob' links on this page.
Thanks for getting in touch, we'll get back to you shortly.
Unable to submit request. Please try again.