The Adventurous Journey
Undertaken after commencement of Milestone 3
Should present a real adventure – something challenging and exciting
Scouts may choose from a range of different methods of movement – doesn't have to be walking!
Can adjust the duration or increase level of support to enable a Scout to undertake the journey.
Discussion: What examples have you seen/heard of adventurous journeys being adjusted to meet different individual capabilities?
Example of reasonable adjustments: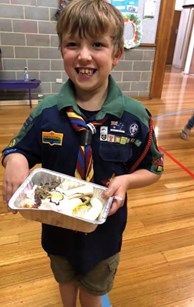 Tyler is a Scout, and has cerebral palsy and epilepsy. He tires easily and has restricted movement on his right side.
For his Explorer hike (adventurous journey) Tyler opted for a 30km bike hike. He spread it out across 3 days, and
the Unit had a support vehicle on hand for when he needed a rest.
Caitlin is a Venturer with a vision impairment. For her expedition the Unit Council helped organise large print maps, and nominated one person to provide additional support with navigation and map reading.
General Enquiry
If you've got a question for Scouts Victoria, shoot us a message here.
Thank you for your enquiry. A Scouts Victoria representative will be in touch with you shortly.
Unable to submit request. Please try again.